Yuletide Runway
November 30 | The Manor
7 pm - 10 pm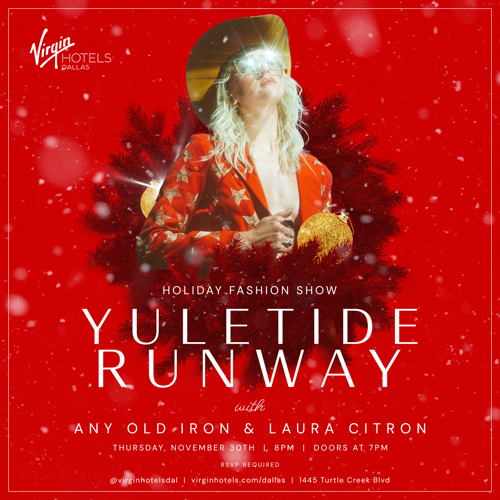 Deck the halls in your most festive fashions on Thursday, November 30th for an evening of glitz, glamour and holiday cheer at Virgin Hotels Dallas. Any Old Iron & Laura Citron are ready to kickstart the holiday season at Yuletide Runway, a holiday fashion show fit for rockstars & royalty alike.
Doors swing open at 7PM, but the real party starts on the runway at 8PM. Tickets start at $25++ and include access to the fashion show, a welcome spirit, and seasonally-inspired sweets. Additional drinks will be available for purchase at the bar.
About Laura Citron:
Laura Citron is a fashion label celebrating maximalist glamour, and based in Nashville, TN. Connecting the past and the present, her label evokes eclectic nostalgia of decades past with a reimagined vision for a modern world! Her designs have been featured in Vogue, Cosmopolitan, L'Officiel, Rolling Stone, and the Wall Street Journal, and have been worn by musicians including Lainey Wilson, Little Big Town, Lauren Alaina, Jennifer Nettles, Greta Van Fleet, and Jake Wesley Rogers, among others. For Laura, fashion is fantasy, and she aims to create a world filled with color, sparkle, and fun where everyone can feel happy, confident, and fabulous! Why blend in, when you were born to STAND OUT?!
About Any Old Iron:
Any Old Iron is the brainchild of designer/stylist, Andrew Clancey. The label's name is rooted in the olden cry of a scrap man collecting metal with his horse and cart, and also hearkens to Clancey's family scrap metal business which was founded in 1872. "Any Old Iron," is also an Old English music hall song which references a young man's sartorial dandyism – a quality that is distinctly English, and, ever-present in the brands aesthetic. In October of 2014, Any Old Iron moved it's store to Nashville, Tennessee from NYC looking to dress the cities musicians and fashion forward locals. Any Old Iron's clients include Beyoncé, Lady Gaga, Cher, Ozzy Ozbourne, Kate Bosworth, Taylor Swift, Elton John, Miranda Lambert, Cardi B and the Jonas Bros to name but a few.