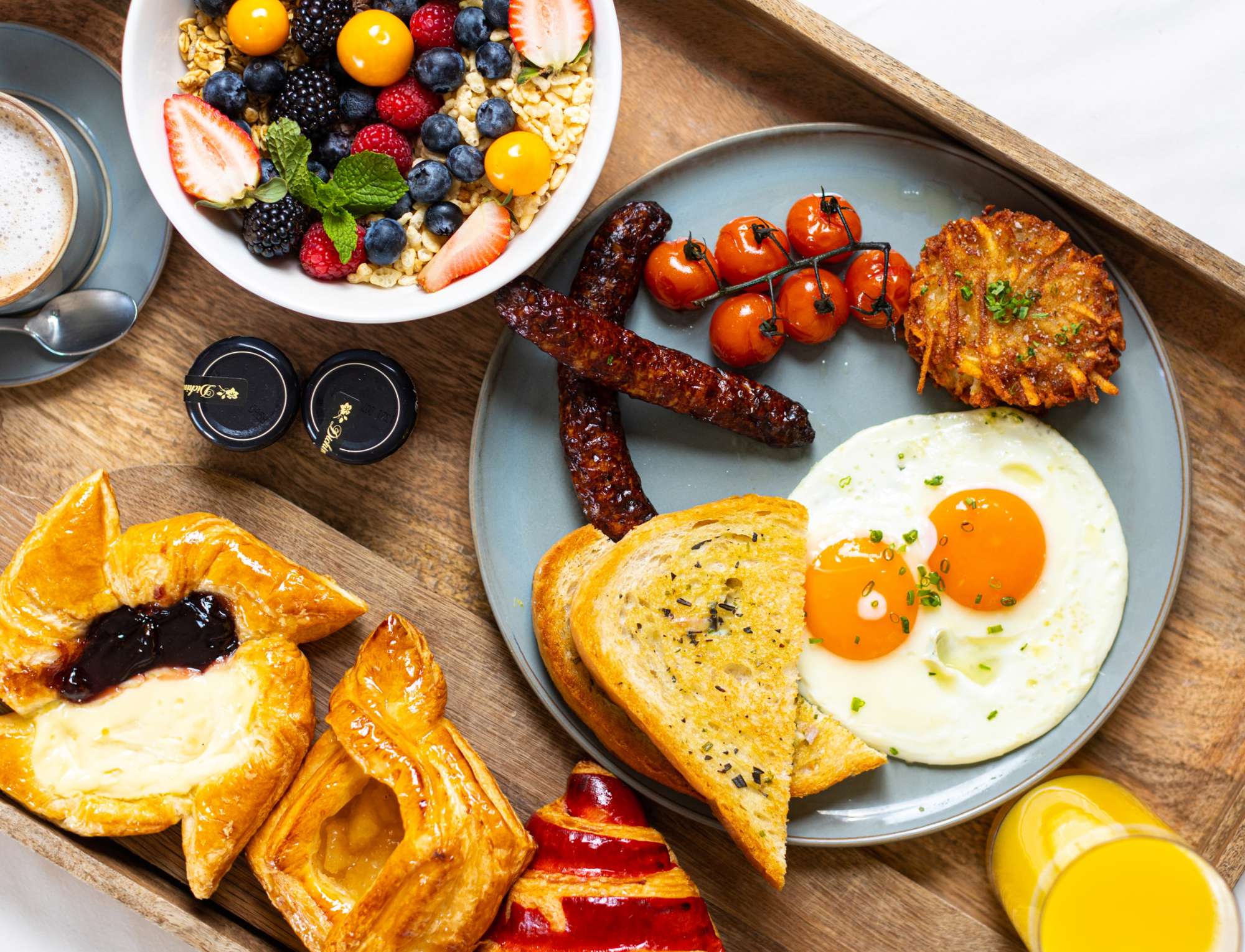 In-Room Dining
Room For More?
Want to eat out without having to go outside? Just say the word and we'll bring Miss Ricky's delicious made-to-order Italian food to your door. You can tuck in while tucked in, have a snack in the sack or simply indulge in a slice in your own personal paradise.
Order through our app, using your in-room TV or by calling our team.
Our in-room dining is available from Miss Ricky's during restaurant opening hours – and features everything on the Miss Ricky's menu, from fried chicken and waffles to burgers, sandwiches – and don't forget dessert!
Opening Times
Monday to Thursday:
7am - 8:30pm
Fridays: 
7am - 9:30pm

Saturdays:
8am - 9.30pm
Sundays:
8am - 8.30pm
Find Us
203 N. Wabash 
Chicago, Illinois 60601
Menus
Breakfast/Brunch
YOGURT PARFAIT | $13
Seasonal fruit, house-made granola, chia seeds, orange honey blossom
COUNTRY SOURODUGH TOAST
Avocado: Confit heirloom cherry tomato, roasted pepitas, wild mushrooms | $10
Nutella: Caramelized banana, roasted almond | $9
Peanut Butter: Crispy bacon, strawberry jam | $9
CHILAQUILES | $18
2 fried eggs, tortilla chips, salsa verde, queso fresco, pickled red onion, radish, cilantro
Add chicken +$8, add shrimp +$9, add steak +$12
EGGS BENEDICT
Served with herb breakfast potatoes
Salmon: pastrami smoked salmon, english muffin, hollandaise sauce | $20
Ham: french ham, english muffin, hollandaise sauce | $18
Spinach: garlic, spinach, english muffin, hollandaise sauce | $16
Lobster: crispy lobster cakes, english muffin, hollandaise sauce | $24
PASTRAMI SMOKED SALMON LOX | $19
Toasted everything bagel, dill cream cheese, pickled red onion, capers, served with fruit
STUFFED FRENCH TOAST | $16
Cream cheese filling, strawberries, pecans, A-grade amber maple syrup
THE FARMER | $18
2 organic eggs your way, herbs breakfast potatoes, choice of smoked bacon turkey bacon, or chicken sausage
THE 'L' OMELET | $14
French ham, onions, peppers, cheddar cheese, herbs breakfast potatoes
HOG OMELET | $16 
Bacon, sausage, french ham, provolone cheese, herbs breakfast potatoes
RICKY'S OMELET | $17
Egg whites, spinach, onions, mushrooms, broccoli, goat cheese, served with a side of fruit
BREAKFAST SANDWICH | $17
Freshly baked croissant, french ham, avocado, green mix, fried egg, provolone cheese, served with a side of fruit
BISCUIT AND GRAVY | $14
Freshly baked southern biscuit, fennel pork sausage gravy
FRIED CHICKEN AND WAFFLE | $22
Buttermilk chicken, fried egg, aleppo pepper butter, A-grade amber maple syrup
CAESAR SALAD | $12
Baby gem lettuce, grana padano cheese, croutons, caesar dressing
Add chicken +8, add shrimp +9, add steak +12
SHRIMP & GRITS | $18
Grilled marinated shrimp, green chili peppercorn grits, poached egg
MISS RICKY'S BURGER | $15
10oz chef blend prime beef, hock's cheddar, red onions, calabrian aioli, pickled dill cucumber, lettuce, brioche bun
BUFFALO CHICKEN SANDWICH | $18
Buttermilk dredge, buffalo sauce, napa cabbage slaw, pickles, herb ranch aioli, brioche bun
MORNING NAPLES PIZZA | $18
Eggs, mozzarella cheese
Choice of three toppings: tomato, onions, bell peppers, mushrooms, spinach, pork sausage, chicken sausage, bacon, french-style ham
ARRABIATA | $22
Garlic, olive oil, chili, thyme, oregano, parsley, butter, spaghetti, pomodoro sauce
PAPPARDELLE PRIMAVERA | $24
Mushrooms, onion, diced red & yellow peppers, broccoli, black olives, arugula, with fresh cream or pomodoro sauce
SHAKSHUKA | $16
Two poached eggs, garlic tomato sauce, mediterranean spice, fresh pita bread
RAINBOW SCARLET COOKIE SKILLET | $14
Triple chocolate chip cookie, vanilla ice cream
Sides
APPLE SMOKED BACON | $6
MAPLE LINK PORK SAUSAGE | $6
TURKEY BACON | $6
APPLE SMOKED CHICKEN SAUSAGE | $6
ONE ORGANIC EGG | $3
TWO ORGANIC EGGS | $6
HERB BREAKFAST POTATOES | $5
SIDE OF FRESH FRUIT | $5
ONE BUTTERMILK PANCAKE | $8
WAFFLE | $9
BAGEL | $4
Everything, plain
TOAST | $3
Wheat, sourdough, white, gluten free
FRENCH FRIES | $8
CLASSIC OATMEAL | $9
Dinner
ANTIPASTI
HOUSE-MADE FOCACCIA | $6
Extra virgin olive oil, heirloom tomatoes
ZUPPA DEL GIORNO | Cup $6 | Bowl $10
IBERICOS TOAST | $16
Buttery brioche toast, cinco jotas ham, burrata cheese, black garlic sauce, trout caviar
CEVICHE | $20
Cured atlantic salmon & black cod, avocado, coriander micro-herbs, flatbread cracker
CARPACCIO IBERICOS | $42
Salted dry-aged cinco jotas ham, arugala salad, parmigiano reggiano
CAESAR SALAD | $12
Baby gem lettuce, parmigiano reggiano, croutons, caesar dressing
BEET SALAD | $14
Roasted beet, fennel, baby arugula, turkish pistachio, fresh thyme, whipped goat cheese
GROVE SALAD | $15
Mixed leaf salad, avocado, strawberries, pear, gorgonzola cheese, candied walnuts, mixed berry-citrus dressing
Add chicken (+$8) , shrimp (+$9), or steak (+$12) to any salad
OVEN
ANNA AL FORNO | $14
Baked market mushrooms with bechamel, parmigiano reggiano, country-style ciabatta
FARMER'S CARROTS $17
Honey-roasted baby heirloom carrots, whipped feta, assorted pepperoncini, chili salsa
HONEY-GLAZED PORK BELLY | $19
Sweet-spicy parsnip mousse, charred sweet corn, fire & ice pickles
SAFFRON MUSSELS | $23
Blue island mussels, saffron broth, heirloom tomato fennel salad, grilled house focaccia
TROUT AL FORNO | $36
Fresh-baked rainbow trout, seasonal vegetables, lemon butter sauce
LAMB SHANK | $38
12-hour braised lamb shank, creamy saffron risotto, mint chutney
PIZZA
CLASSIC MARGHERITA | $18
San marzano pomodoro sauce, mozzarella, basil
LEVERDURE | $21
San marzano pomodoro sauce, mozzarella, artichokes, bell pepper, cremini mushrooms, black olives, oregano (vegan upon request)
SALSICCIA | $23
San marzano pomodoro sauce, three cheese blend, mild Italian sausage, garlic olive oil, parsley
DIAVOLA SALAMI | $23
San marzano pomodoro sauce, provolone, spicy salami, sweet mild peppadew peppers
BOSCAIOLA | $27
Truffle cream sauce, parmesan reggiano, prosciutto parma, wild mushrooms, arugula
GRILL
CHARRED OCTOPUS | $23
Spanish octopus, purple rice, aleppo chili, avocado puree, watermelon radish, scallions
MISS RICKY'S BURGER | $19
10 oz prime beef, brie cheese, thick-cut pork belly, fried egg, calabrian aioli, pickled dill cucumber, lettuce, brioche bun, truffle fries
POLLO ALLA CAPRINA | $26
Herb-marinated grilled chicken breast, baked potato casserole with bacon & caramelized sweet onion, sundried tomatoes & olives, goat cheese velouté
CASTATA DI MANZO | $55
All-natural black angus beef ribeye, charred parmigiano-crusted broccolini, demi horseradish sauce
PASTA & RISOTTO
SPAGHETTI POMODORO | $23
Braised san marzano tomato, burrata cheese, fresh basil
SPAGHETTI CARBONARA | $23
Guanciale, creamy egg yolk, parmigiano reggiano, chives
PAPPARDELLE BOLOGNESE | $25
Meat ragu (beef, pork, & veal mix), parmigiano reggiano, herb oil
PAPPARDELLE AL SALMONE | $26
Smoked salmon, red onion, asparagus, dill cream sauce
LOBSTER SPINACH RAVIOLI | $29
Champagne cream sauce, cilantro oil, black garlic mousse, chili threads
RISOTTO DI FUNGI MISTI | $26
Al dente arborio risotto, mixed wild mushrooms, mascarpone cheese, parmigiano reggiano
Gluten-free pasta options available upon request
DOLCE
Cocktails
Miss Ricky's Bloody Mary | $10
Vodka, filthy bloody mix, bacon, olives, celery, tajin rim 
Beermosa | $8 
Avery white rascal, orange juice
Bellini | $8 
Bubbles, white peach puree 
Mimosa | $10
Bubbles, orange juice
$36 by the bottle
Berry Tonic | $12
Belvedere blackberry lemongrass, lemon, cassis noir, mediterranean tonic
Wine
Beer
DRAFT BEER
Half Acre Fader | $7
16oz Lager 5.0% 
Avery White Rascal | $7
12oz Belgian White 5.6%
CANS & BOTTLES
Miller Lite | $6
12oz Pilsner 4.2%
Heineken | $7
12oz Pale Lager 5.0%
Modelo Especial | $7
12oz Lager 4.4%
Half Acre Daisy Vallejo | $8
16oz APA 5.2%
Dogfish Head Sea Quench | $7
16oz APA 5.2%
N/A Heineken | $7
12oz 0.0%
Coffee, Tea & Juice
La Colombe Drip Coffee | $4
Add on 1oz shot of whiskey, Bailey's, Amaretto, Mr Black Cold Brew Liqueur +$6
Tea | $4
Earl grey, english breakfast, green, chamomile
Fresh Juices | $4
Orange, grapefruit, apple cider
Add shot of whiskey +$6
Lets Feed Your Curiosity
Lets Feed Your Curiosity
Lets Feed Your Curiosity
Lets Feed Your Curiosity
Lets Feed Your Curiosity