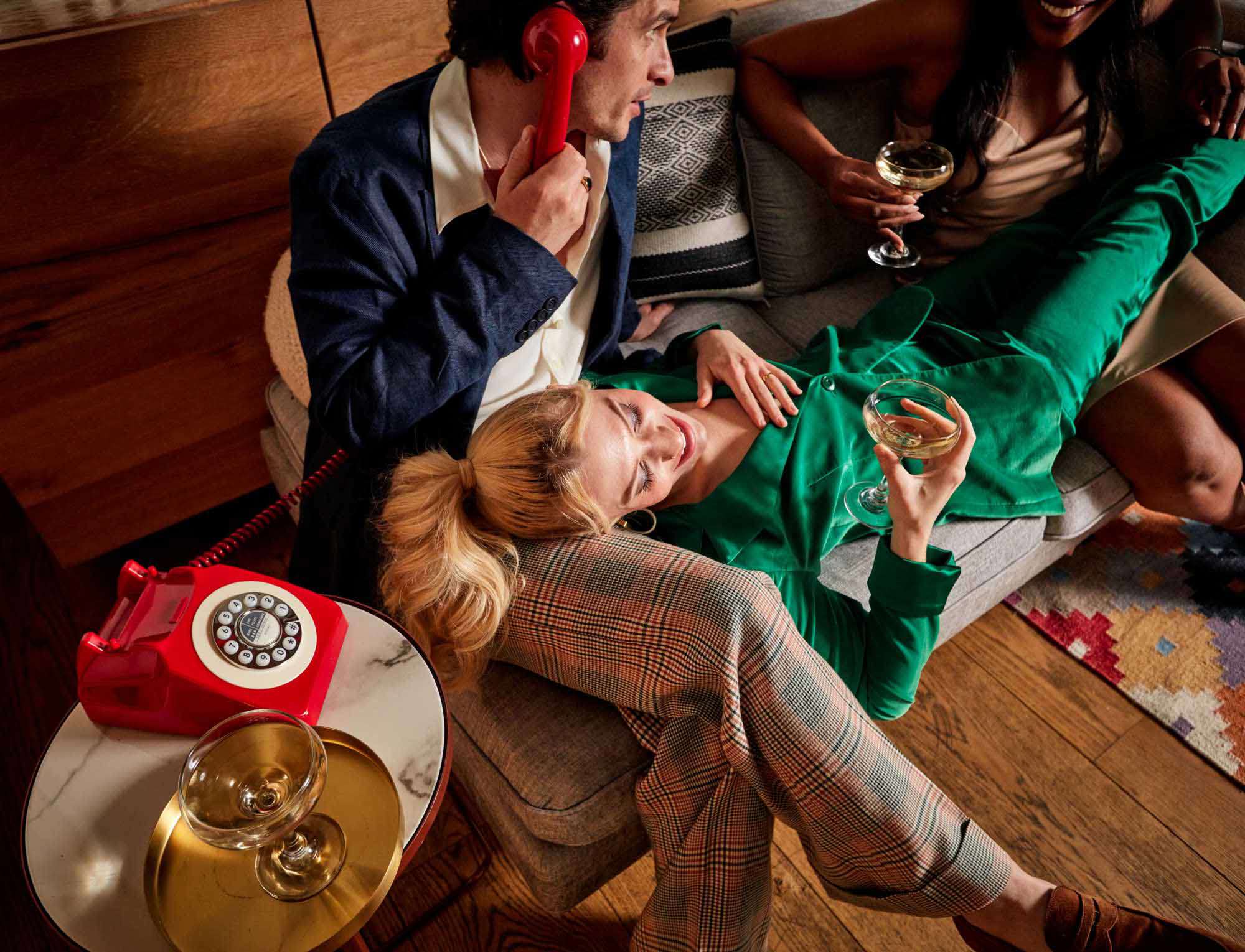 FAQs
Searching For Answers?
Whether you're raring for a workout, need somewhere to park your truck or just feel a little peckish, the info you need could well be right here.
Still need help? Reach out to our team – they'll be only too happy to get you the answers you need.
What's your minimum check-in age?
We know age is just a number, but you do need to be over 21 to make a reservation and check-in at Virgin Hotels Chicago.
Do you have a house car available?
We don't have a house car but give your friendly concierge a call during your stay and they'll be more than happy to help. We can call you a cab or give you directions to the closest 'L' train or bus stop. Plus, there are Divvy bokes, Ubers and Lyfts in the area to take you to where you're going. 
What time is check-out? Do you offer late check-out?
We offer flexible check-in and check-out times. Just call our front desk and we can help cater to your trip.
Do you have a gym?
Yes, we do! Our Chicago gym and fitness center on the 25th floor features internet-equipped Technogym® cardio machines that allow you work out... while you're working out what to do with the day ahead.
Do you have Wi-Fi?
We do – and it's free for all! We don't charge extra for bandwidth, just all of the Wi-Fi, all of the time.
Do you have a coffee shop?
We do! You can get your caffeine fix at Two Zero Three, conveniently located right off the lobby on our ground floor. It's open daily, serving delicious La Colombe coffee from 7am to 2pm.
Can I have my wedding at the hotel?
You can have any kind of party or get-together here, as long as your group is 50 people or less. Whether you're planning a private celebration, nuptials, a wedding shower – even your dog's first birthday – we can turn your bright idea into a great event. Just visit our Events page to learn more.
Do you have valet parking? How much does it cost?
We do! It's available 24/7, and the prices are: 
For 0 to 3 hours: $26
For 3 to 6 hours: $40
For 6 to 24 hours: $69
Oh! And if you drive an oversized vehicle, just let us know so we can make arrangements before you arrive.
What's the best way to get from the airport to the hotel?
Please see below for driving and train directions straight to our door, from both O'Hare International Airport and Midway Airport. 
By car from O'Hare
•    Head out on I-190 W towards Interstate 90 and 294/Chicago. 
•    Merge onto I-90 E for 12 miles. 
•    Exit at 50B toward Ohio and continue until you reach Wabash and turn right. 
By car from Midway
Head north on Cicero Ave and turn right onto I-55 N/Stevenson ramp to Chicago.
Use the 2 left lanes to take US 41 N.
Take Lake Shore Drive to Wabash. 
By train from Midway
•    Take the Orange line towards The Loop. 
•    Get out at State/Lake (only 13 stops) and head east on Lake Street toward Wabash. 
•    You can't miss the Virgin Hotels Chicago entrance at the corner of Lake & Wabash.
Do you have a pool?
We don't, but if you're set on swimming, we're just a few blocks from the beaches of Lake Michigan!
Are you a pet-friendly hotel?
We are! Your best friend will be given the warmest welcome, sure to get their tail wagging! Expect pet-friendly chambers and comfy pet-menities as cozy as your own. Yep, we're big fans of the fluff and think traveling with pets should be just as fun for them as it is for you. No breed or size restrictions. No fees.
What are the open hours for Cerise Rooftop?
Cerise, our rooftop bar, is open 7 days a week:
•    Sundays to Wednesdays, 4pm to midnight. 
•    Thursdays to Saturdays, 4pm to 2am. 
Where can I eat breakfast?
You can enjoy breakfast or brunch at Miss Ricky's restaurant, and a variety of breakfast pastries at Two Zero Three coffee shop. 
Where can I eat dinner?
We have two options for you! Enjoy fresh, made-from-scratch Italian at Miss Ricky's restaurant, or take it to the rooftop at Cerise.