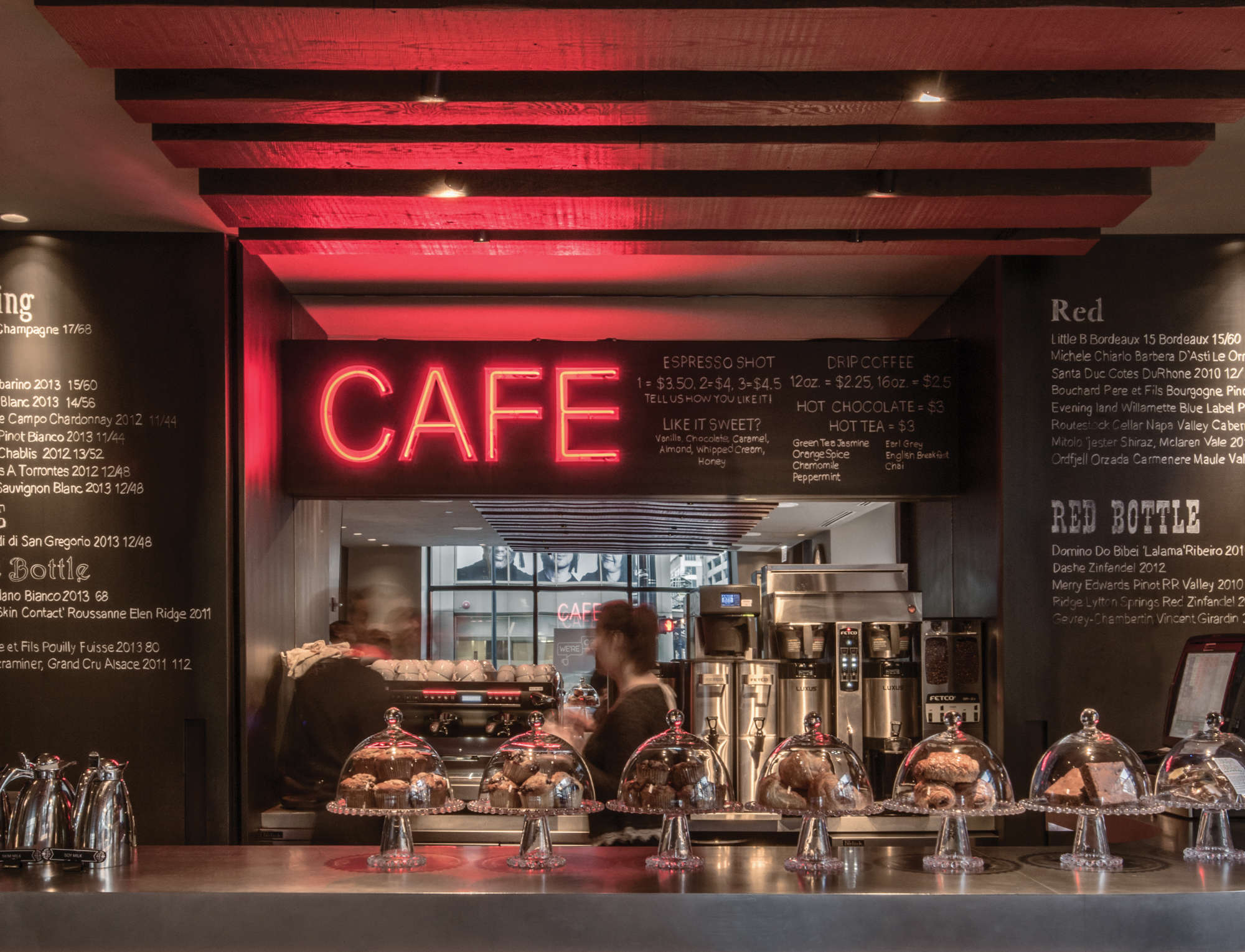 Get The Tea
Our newsstand-inspired coffee bar is the perfect base for caffeinated catchups, matcha meetings and sweet-talking dates. Open daily so you can get your fix of La Colombe coffees, teas, pastries and sandwiches any day of the week.
Opening Times
Daily
7am - 2pm
Find Us
Two Zero Three
Ground Floor
203 N Wabash Ave
Chicago, IL 60601
Menus
Breakfast Items
Plain Croissant | $4
Chocolate Croissant | $5
Ham & Cheese Pastry | $6
Parmesan & Leek Pastry |$6
Spinach & Feta Pastry | $6
Raisin Roll | $4
Breakfast Sandwiches | $7
Sausage, egg, & cheese
Bacon, egg, & cheese
Egg & cheese
House Favorites (Hot or Iced)
Queen Bee 
Espresso, vanilla, honey, oat milk
Purple Rain
Lavender, white mocha, whole milk
Mocha & Chili
Chocolate, cayenne, almond milk
Bee's Knees
Honey, pinch of salt, oat milk
La Colombe Classic Drip
Latte
Flat White 
Cappucino
Americano
Double Espresso | 2 oz.
Macchiato / Cortado | 4 oz.
La Colombe Pure Black Cold Brew
La Colombe Nitro Cold Brew 
La Colombe Canned Coffee 
+$.50 Alternative Milk: almond, soy, coconut, oat
+$.50 Per Flavor: caramel, chocolate, white mocha, hazelnut, lavender, vanilla, sugar free vanilla 
Tea (Hot or Iced)
Virgin Fog 
Earl grey, vanilla, oat milk
Calm & Collected
Matcha, lavender, soy milk
Get Well 
Ginger, turmeric, honey lemonade
Chai Latte 
Matcha Latte
Hot Teas
English Breakfast
Earl Grey
Jasmine
Peppermint
Ginger-Turmeric
Lets Feed Your Curiosity
Lets Feed Your Curiosity
Lets Feed Your Curiosity
Lets Feed Your Curiosity
Lets Feed Your Curiosity

Meet & Celebrate
Watch our modern coffee shop go from day to night for your next intimate dinner or evening reception. Meet, mix, and mingle in the ambient glow of Chicago's iconic Loop with floor-to-ceiling windows overlooking Lake St. and Wabash Ave.