4 Creative Dishes From Our Chefs To Spice Up Your Holiday Meal
By Shayne Benowitz
When it comes to hosting a holiday meal this year, why reach for the same old cookbooks when you can take a page from our Virgin Hotels chef's personal recipes?
From a hearty potato latke reuben for Hanukkah to a traditional Mexican pozole rojo soup, Ukrainian potato and cheddar pierogies and a sweet apple crisp, we've got you covered from appetizers to dessert.
Snag one of the recipes below or make the entire menu for a playful, multi-cultural holiday feast that's sure to impress your friends and family.
Appetizers: Chef Ryan Lachaine's Potato & Cheese Pierogies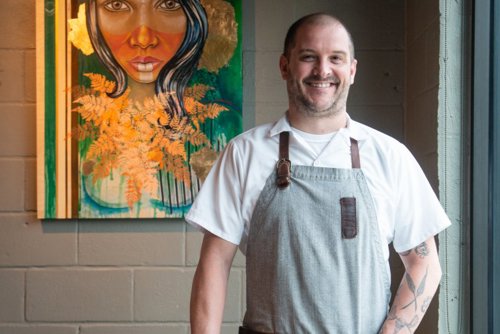 For some Eastern European snacking during the holidays, try your hand at Chef Ryan Lachaine's traditional potato and cheese pierogies. "Since my mom's side of the family is Ukrainian, these are a staple during the holidays," says Chef Lachaine who helms the kitchen at Virgin Hotel Nashville's Commons Club and The Pool Club.
Potato & Cheese Pierogies
Ingredients for Pierogie Dough:
1 Egg
¾ Cup Sour Cream
8 Tablespoon Unsalted Butter (softened)
1 Teaspoon Kosher salt
2 Cups All-Purpose Flour (plus more for rolling dough)
Instructions:
Mix flour, sour cream, and egg and salt together. Knead on a lightly floured surface until smooth. Cover dough with bowl and let rest for 30 minutes
Ingredients for Filling:
5 Russet Potatoes, peeled
5 Cups of Cheddar Cheese, grated
Salt & pepper to Taste
Instructions:
Boil potatoes until soft. Drain and rinse. Mash potatoes until smooth. Add cheese. Let stand a few minutes until cheese melts. Then fold potatoes and cheese together. Season with salt and pepper.
Instructions:
Roll out dough about 1/8-inch thick. Cut into 3-inch circles. Fill each circle of dough with one tablespoon of potato and cheese filling. Fold in half and pinch ends together to seal. Drop in hot boiling water and simmer for 4 minutes. Drain and fry in butter a few minutes until heated through.
First Course: Chef Tony Roldan's Pozole Rojo
"One of my all-time favorite meals is my grandmother's pozole—a traditional pork based Mexican soup," says Chef Tony Roldan of Cerise at Virgin Hotels Chicago. "Every Christmas since I was little, my grandmother and mom make pozole rojo for our family. They slowly braise it for six hours and it fills our house with the most amazing smell. I usually eat several bowls in one day. It's especially great on cold Chicago winter days when my body is craving something warm."
If you happen to ring in the holidays in Chicago, Cerise is hosting a New Year's Eve party at the rooftop with a DJ and the Black Wednesday dance party is going strong.
Roldan Family Pozole Rojo
Ingredients:
2 Pounds of Pork Cut into Medium Sized Cubes
6 Guajillo Chiles
1 Can of Hominy
6 Cloves of Garlic
1 Tomato
Salt & Pepper to Taste
½ Onion
1 Teaspoon of Oregano
1 Teaspoon of Cumin
2 Bay Leaves
Accompaniments:
2 Cups Chopped Radish
8 Lime
4 Cups Chopped Lettuce
40 Homemade Tortilla Chips
Chopped Cilantro
1 Chopped Onion
Instructions:
Cook the pork meat in sufficient water (ensuring that the pork is completely covered with an inch or two to spare) with 1 clove of garlic, 1/4 piece of an onion (not diced), the bay leaves, salt and pepper. Set aside 1/2 cup of the broth from cooking the pork.
Once the meat is cooked through, remove the bay leave, onion, and garlic clove, and add the hominy and bring to a boil for 15 minutes.
Prepare the guajillo chilies by removing the seeds and stem and boiling in water for 5-7 minutes or until soft. Set aside for the next step.
Blend the remaining 5 cloves of garlic, the guajillo chilies, the tomato, another 1/4 piece of the onion, the cumin, the salt, the pepper, the 1/2 cup of broth that was set aside in step 1 above, and 1/2 cup of hominy (to thicken the sauce) in a blender until completely blended.
Once the above mixture is blended, strain the mixture and add the strained liquid to the boiling pot with the pork and water.
Season with oregano and add salt to taste.
Let boil for 15 minutes longer.
Serve hot, topped with chopped lettuce, onions, radishes, and a few drops of lime and finally the homemade tortilla chips.
Main Course: Chef Jonah Friedmann's Potato Latke Reuben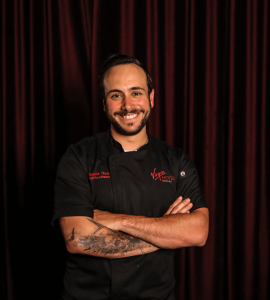 "This dish to me is comfort," says Chef Jonah Friedmann of the Commons Club at Virgin Hotel Dallas. "I used to get it from my favorite deli in Chicago during Hanukkah and when I moved away, I started playing around with recipes to recreate it. It's a take on a classic Reuben, except the bread is replaced with two potato latkes—homemade of course—and layered with pastrami, turkey, and thousand island folded with crème fraiche and caviar."
And Chef Friedmann's favorite holiday tradition? "I gather with family every Christmas and go to the movies and eat Chinese food. Then over Hanukkah, we gather for Shabbat and I dress my dog Callie in a yamaka while she waits for challah and wine."
Potato Latke Reuben
Ingredients To Make The Latkes:
2 Large Yukon Potatoes
5 Small Shallots
2 Garlic Cloves
½ Cup of AP Flour (Sub for cornstarch if gluten free)
1 Teaspoon Baking Powder
2 Eggs
½ Cup of Chopped Chives
Instructions:
Start by peeling the potatoes, then set them in a bowl of room temperature water. While they soak, mince shallots, garlic and chives (separately).
Sweat garlic & chives in butter on low/medium heat. While they sweat, grate the potatoes into a rag to absorb all the moisture. Next, ring the rag to drain all the moisture and pat dry with paper towels and set aside in a bowl.
Add sweated garlic & shallots to the bowl of grated potatoes, and remaining ingredients. Begin to mix all ingredients with your hands until all ingredients are binded.
Heat pan then add canola oil to coat the bottom of the pan. Begin to form flattened patties in your hand (about half an inch thick) and place gently in the oil to crisp. Flip once it is golden brown, and repeat.
Set fried latkes aside.
Ingredients For the Sauce:
½ Cup Mayonnaise
½ Cup Crème Fraiche
4 Tablespoon Ketchup
4 Teaspoon Horseradish Pickles (minced)
2 Tablespoon Champagne Vinegar
2 Teaspoon Minced Shallots
Salt & Pepper
Instructions:
Combine all ingredients in a bowl and fold with your favorite caviar (optional).
To make your Reuben:
Take a Latke and schmere with Thousand Island sauce, pastrami, more sauce, turkey, more sauce, and another latke.
Dessert: Chef Alex Harrell's Apple Crisp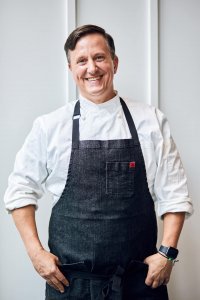 And for a sweet finish to any holiday meal, we snagged Chef Alex Harrell's apple crisp recipe, which we will be featured on the Commons Club Thanksgiving menu at Virgin Hotels New Orleans'. "What's not to love about apples, molasses, and warm spices—and it's gluten free!" says Chef Harrell.
Apple Crisp
Ingredients & Instructions:
Preheat oven to 350 degrees
Streusel Topping
2 Cups Sliced Almonds
2/3 Cup Sugar
2/3 Cup Rye Flour
1 Teaspoon Kosher Salt
Zest of ½ Orange
½ Cup of Melted Butter
Combine all the ingredients together and mix into a coarse crumble.
Ingredients Apple Filling:
1/3 Cup of Sugar
1/3 Cup Molasses
¾ Teaspoon Ground Cinnamon
¼ Cup Corn Starch
½ Teaspoon Kosher Salt
Zest of ½ Lemon
½ Teaspoon Ground Cardamom
8 Cups of Peeled Apples
1 ½ Tablespoons of Lemon Juice
2 Tablespoons of Diced Butter
Instructions:
In a large bowl, whisk together the sugar, cornstarch, cinnamon, and cardamom.
Add the diced apples and toss to combine.
Drizzle in the molasses and add the butter and lemon juice and toss again.
Scrap the mixture in to a 9×9 baking pan and cover the top with the streusel topping.
Bake for 50 -55 minutes, until the topping is golden and the filling is bubbling and starts to caramelize.
Serve with whipped cream or your favorite ice cream!