4 Reasons We're Buzzed To Brew La Colombe + 3 Coffee Cocktail Recipes
By Shayne Benowitz
We've turned a new page at Virgin Hotels' Funny Library Coffee Shops by brewing La Colombe—a leading coffee roaster known for their ethical, long-term trade practices and silky, frothy draft lattes.
From their signature blends to cold brews on tap and so much more, we caught up with Nicolas O'Connell of La Colombe to get the skinny on the brand. "We're excited to offer guests a premium on-premise beverage experience that will complement the thoughtful hospitality guests expect when staying at a Virgin Hotels or visiting a Funny Library," O'Connell said.
Read on for why we're so jazzed with our new coffee provider.
And for good measure, we also threw in three coffee cocktail recipes we know you'll want to try at home.
1. Responsibly Sourced
La Colombe's commitment to responsible sourcing starts with bettering the lives of their partners at origin through positive relationships and sustainable practices.
"We believe in investing in, uplifting and protecting the communities we source our coffee from," said O'Connell. "Fair treatment and compensation for coffee producers is at the heart of our vision for trading coffee. That's why we work with a group of like-minded importers who connect us directly with producers to ensure that producers are paid a premium, high above fair trade price, for the exceptional quality of their products."
La Colombe also works with organizations like Food 4 Farmers and World Coffee Research to transform the production of origin into a profitable and sustainable livelihood for producers and to provide resources and education to fill in gaps in food security.
2. Global Coffee From the Bean Belt
The coffee plant grows best in climates typically found in mountainous regions, with moderate sunshine and ample moisture, situated in the middle of the globe between the Tropic of Cancer and the Tropic of Capricorn, known as the "Bean Belt." La Colombe sources its beans from coffee plants growing happily in such diverse areas of this region as Brazil, Mexico, Haiti, Ethiopia, Yemen, Vietnam and beyond.
3. Latte Innovation
"The Draft Latte is the first of its kind," said O'Connell. "It's the first-ever textured cold latte. It originally launched on-bar in our cafes, but it's now available in a 9 oz. can at grocery stores nationwide. It has a frothy, velvety mouth-feeling and a bold coffee taste."
4. Seasonal Holiday Flavors
As the holidays near, we can't wait to cozy up with La Colombe's exclusive seasonal flavors, including the Peppermint Mocha Draft Latte made with real milk, cold brew and peppermint mocha, and their Winter Toast blend, a medium roast coffee with notes of roasted almond, chocolate mousse and rum cake.
Creative Coffee Cocktails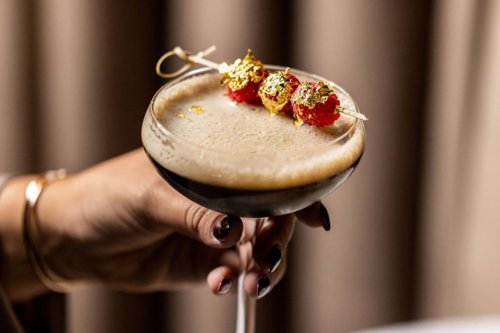 Espresso martinis are having a moment and we're on board with the return of this '90s phenom—especially when made with high quality coffee or espresso, like La Colombe.
At Commons Club at Virgin Hotels Dallas, the mixology team has created their twist on the classic with the Nine to Five Espresso Martini.
Nine to Five Espresso Martini
1.5 oz Vodka
0.75 oz Coffee Liqueur
0.5 oz Raspberry Simple Syrup
0.5 oz La Colombe Espresso
Combine all ingredients in shaker, shake until cold, strain into coup glass and top with raspberries.
The creative team at La Colombe has whipped up its version of the espresso martini using their Pure Black Concentrate cold brew.
Espresso Martini
2 oz La Colombe Pure Black Concentrate (1:2 dilution)
2 oz Vodka
2 oz Cold Brew Liqueur
5 oz Simple Syrup
Pinch of Salt
Stir and serve in a chilled glass. Garnish with coffee beans
And for a holiday twist, try La Colombe's Spiked Merriment Mocha, complete with a crunchy candy cane rim. One can of Peppermint Mocha Draft Latte makes two cocktails.
Spiked Merriment Mocha
1 oz Coffee Liqueur
1 oz Vodka
25 oz White Creme de Menthe
4 oz Peppermint Mocha Draft Latte
Pour ingredients into a tumbler with ice, shake and strain into candy cane rimmed rocks glass.
Candy Cane garnish:
For candy cane garnish, crush two fun sized candy canes in their wrappers with a bar muddler or rolling pin, pour onto saucer or small plate. Then, dip rim of glass into a saucer of simple syrup, gently press into candy cane sprinkles.