How The Sustainable, Women-Led Rug Company Outfitted Virgin Hotels Edinburgh
By Liana Lozada
When you step inside the new Virgin Hotels Edinburgh's chambers and suites this June, don't forget to look down. Each habitation greets guests with a sustainable, handmade, and one-of-a-kind Morrocan rug from the female-run company, Lālla. Founded in 2017, besties Emma Sadler and Georgie Rush run the London-based brand that sources and sells each unique piece through women's weaving cooperatives in the Atlas Mountains. As the brand explains, "It is Lālla's ambition to tell these stories to the world, and for these stories to become part of yours."
So how did two friends evolve from curious travelers to sustainable business owners? We chatted with founder Emma Sadler to uncover how the ancient art of rugmaking weaved its way into her story.
Lālla translates to "mysterious woman," and women are clearly at the company's core. Has the story behind the name evolved for you in any way?
It has only solidified more over time. We are a women-for-women company—started by two female founders and focused on female weavers. Meeting new women and building relationships and friendships have been key parts of our business's growth and development. Those once mysterious women have become part of the fabric of the company.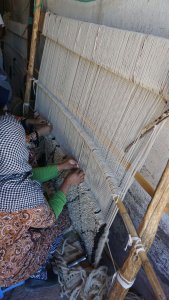 How did you and Georgie meet?
We were flatmates when we first left university and moved to London, meeting through mutual friends. We always had the dream to run our own business, and slowly we managed to make that dream a reality. Starting with a few trips to the Atlas Mountains, going where the roads don't with just a guide and a donkey!
You note in your bio that you traveled around the world in search of rugs; why did Morroco become your product source?
There's a rather funny story here. Morrocco was always somewhere we loved and had a great affinity with—it was a natural partnership for us for many reasons. We also looked into sourcing from Uzbekistan, particularly their beautiful Suzani's! Georgie and I even got as far as Tashkent. However, due to a small issue with paperwork—I messed up the visas—we were deported and sent straight back to where we came! Although luckily, on that very trip, we also found our first women's cooperative in the Atlas Mountains and haven't looked back since. We've not yet attempted to head to Uzbekistan again. Although when we do, I'll leave the paperwork to Georgie!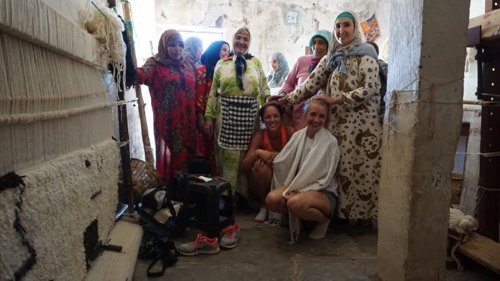 How did the collaboration with Virgin Hotels come about?
I had worked closely with a number of the people involved in the Virgin project for years. We heard about the upcoming project and were able to pitch alongside others and present our rugs and design ideas. The team saw the rugs' quality and recognized the impact that a project of this size could have on the weavers and their communities. From there, the collaboration began.
What type of impact does a project of this caliber have on the women in those communities?
This project employed 180 women for the chamber rugs and 35 women for the suite rugs. A rather impressive feat!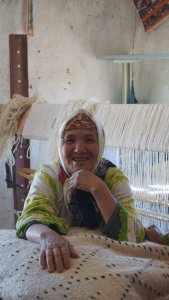 Were the rugs in the Virgin Hotels Edinburgh entirely bespoke?
Yes, the whole project was fully bespoke. We worked with the Virgin Hotels design team for five months on several potential custom designs, sampling a few in the process and then coming to our final decision; one for the main chamber rooms and one for the suites.
Each piece was handmade, from carding and dyeing the wool to weaving the finished product. Therefore, you could say that each rug is bespoke, as no single piece is exactly the same. Each rug has the creative touch of its weavers. Once we began production, it was [took] around 18 months to hand-make and weave each rug. Each piece was handmade by three women at any one time.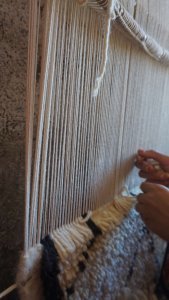 Design-wise, how did you want to distinguish the chamber rugs from the suite rugs?
We wanted the rug design to be both elegant and practical for the chamber room. It had to ground the space and also complement the feature colors while being able to handle high foot traffic. So we decided on a flatweave rug with natural wool hues, which we think fits the bill rather well! The suite rugs had room for more opulence, pattern, and color. We based the rug design on a vintage piece that we sourced, using a similar concept while adding a pop of color. We also made this a pile rug—alongside the flatweave, it added another texture and gave depth to the space.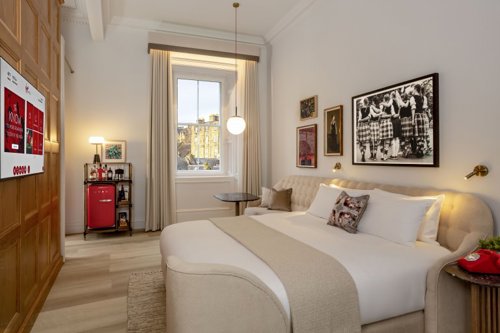 Now the fun part—how many rugs do you each have in your homes?
The answer is ever-changing!
Rugs are like art pieces; when we see a beautiful rug, we find it somewhat of a challenge to let it go even if we haven't quite got the space for it. If all the floor and wall space is full, I've been known to have them rolled behind the curtains! I even currently have one stored under my partner's parent's bed!
I know I'll find a space for it, eventually.