How To Make Your Home Feel Like A Hotel
By Shayne Benowitz
When Virgin Hotels New Orleans opened in the Warehouse District last summer, we wanted to tell the story of our new neighborhood through design. So we tapped local design firm Logan Killen Interiors, helmed by Katie Logan Leblanc and Jensen Killen, to help us nail that authentic New Orleans je ne sais quoi. The result is a layered Southern residential vibe that's both playful and elegant.
"New Orleans has a fun and vibrant tone of voice, which married well with the Virgin Hotels brand, so we chose bold, playful color palettes and layered tropical and African inspired patterns that evoked a sense a place," said Logan Leblanc. "We also implemented various design elements that are commonly seen in New Orleans, including enfilade layouts, transom windows and enclosed porches."
With blush pink tones and custom flooring greeting you upon entrance, the space is filled with furniture and art by local artists and makers, including a brass and glass statement cabinet from Kramer Fine Wood & Metal and paintings and photography by Leroy Miranda, Augusta Sagnelli and Alex Podesta.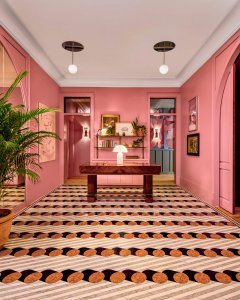 Connected by arched doorways, the Commons Club is a pastiche of upholstered textures and patterns, from plaid to stripes and leopard print with Venetian plaster ceilings and decoupage wallcoverings, while the rooftop The Pool Club is crawling in kudzu and leafy green foliage with red striped lounges and umbrellas for a playful, tropical hothouse effect.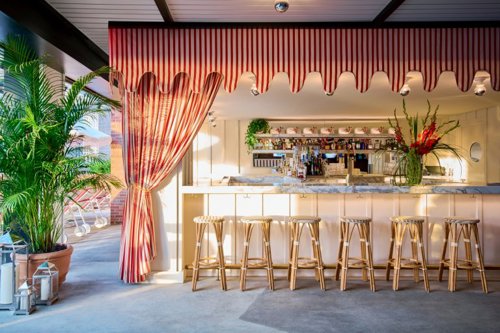 Killen's favorite vignette is the concierge nook just past the entrance. "It has lacquered burgundy paneled walls, a cozy plaid banquette, vintage rug, a bobbin leg walnut table and fully upholstered red boucle chairs with a striking silhouette," she said. "On the back wall, we hung a black and white photo of the swamp and a crystal chandelier hangs above that making the whole space sparkle—it's a little jewel box moment!"
So what's the trick to making a space feel homey? "Layers," said Logan Leblanc. "So often with hotels, you are met with spaces that feel redundant or predictable. Rooms that are lived in have a feeling of being collected over time, so it's important to mix up the materials and styles within a space so it doesn't just hit one note."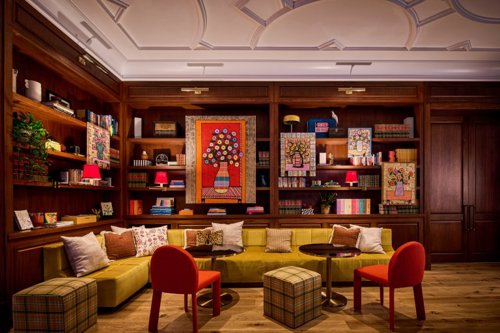 While we love our layered residential vibes at Virgin Hotels New Orleans, we know part of the pleasure of checking into a hotel is that escape from everyday life. To achieve that sensation at home, Jensen advises, "Keep it clean. What people love most about the feeling of a hotel is that sense of relaxation you get when you enter a clean and orderly space. Do the same for yourself by clearing the clutter and be thoughtful about every detail—down to the bud vase. You will immediately feel your blood pressure drop."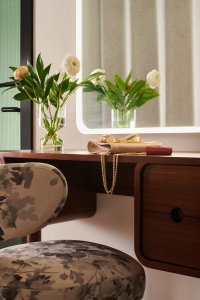 And when it comes to selecting that perfect bud vase—and a one-of-a-kind New Orleans souvenir—stopover at Logan Leblanc and Jensen's Sunday Shop on Magazine Street for a treasure trove of curated items for the home, from glassware to pillows, bath, kitchen and lighting.