The Dirty Shirley & 6 Other Cocktails Of The Summer
By Shayne Benowitz
The temperatures are heating up and there's nothing quite like the perfect summer cocktail to quench your thirst. We surveyed our hotels' mixology and restaurant teams to snag a few fresh recipes. We also asked for their take on the alleged "cocktail of the summer," the Dirty Shirley. Cheers!
Summer Lover in Nashville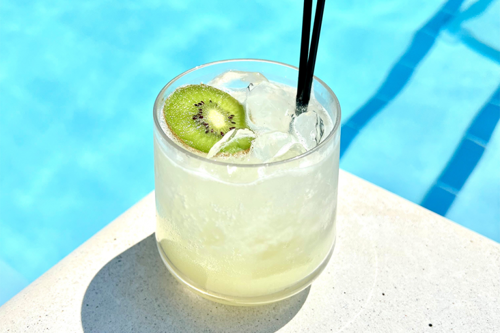 At the rooftop Pool Club at Virgin Hotels Nashville, guests are cooling off with the Summer Lover, one of Director of Entertainment Mary Jones' favorites. The recipe is straightforward enough that we think you can easily recreate it at home:
Recipe:
1.5 oz. Deep Eddy Lime
0.5 oz. fresh lime juice
0.75 oz. kiwi simple syrup
Splash of Topo Chico
Kiwi slice garnish
Instructions: Combine all ingredients in a shaker, shake, strain over ice, top with TopoChico and a kiwi slice for garnish. To make kiwi simple syrup, combine equal parts kiwi purée, sugar, and water over heat. Let cool.
Violet Ecstasy in Dallas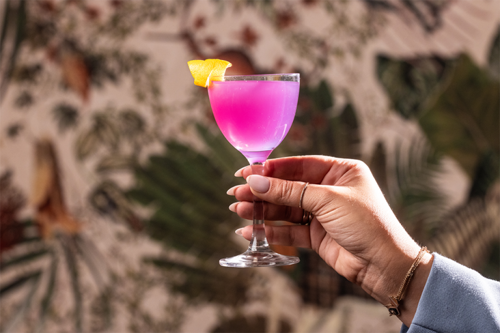 At Virgin Hotels Dallas, Chef de Cuisine Christian Panepinto has two favorite summer drinks. One that's straightforward and another that you'll simply have to pull up a stool at the Commons Club to enjoy.
"On the rare occasion I stray from a whiskey neat, the Violet Ecstasy at Commons Club is my go-to for summer. The bright purple color comes from our special Kettle One Vodka infused with butterfly pea flower. Add Velvet Falernum, Yellow Chartreuse and yuzu." He adds with a wink, "Super simple to make at home, right?"
Spanish-style Gin & Tonic in Chicago
At Virgin Hotels Chicago, Director of Outlets Zachary Blazek recommends a spritz-style drink, like the elevated Spanish-style Gin & Tonic. "We love refreshing flavors in the summer," he says.
Order this off-menu item the next time you visit the hotel or try your hand at home with Blazek's tips: "Stir together an amazing gin, like Mulholland New World Gin, which hasgreat lavender and cucumber flavors, with some whole lime rounds, peppercorns, and a cucumber ribbon in a large wine glass with ice. Pair it with a splash of Fever Tree Mediterranean Tonic and top it off with soda water," he says. "Sitting around the table with some snacks and friends, summer living is perfect.
Pina Colada in Edinburgh
Across the pond at our newest hotel in Edinburgh, Head of Mixology Leon Back is a fan of the world famous Pina Colada. "The way we make it here at Commons Club Edinburgh really does have something special about it," he says. That special something has everything to do with Back's preferred rum blend: equal parts Ron Zacapa, Bacardi 8 year and half part Smith and Cross. "It's perfect for a hot summer's day to share with friends."
Recipe:
50 ml. rum blend of your choice
10 ml. lime juice
4 large pineapple chunks with skin removed.
60 ml. Coco Lopez (cream of coconut)
Blend with crushed ice
Instructions: Combine the ingredients and ratios in a blender. Enjoy!
Cucumber Martini in New Orleans
Down in sultry New Orleans, Heather Blanchard, lead bartender at The Pool Club, favors a Cucumber Martini in the summertime. "They are really refreshing and easy to make at home," she says.
Recipe:
2 oz. vodka
0.25 oz. St. Germain
0.75 oz. lemon and lime juice
0.5 oz. simple syrup
2 sliced cumbers
Instructions: Combine all of the above, then shake and strain. Add a dash of hot sauce for a kick, if you're a fan.
Dirty Shirley
While a New York Times article declared the Dirty Shirley—essentially, a vodka-spiked Shirley Temple, which is traditionally made with Seven-Up, grenadine syrup and a maraschino cherry—as the cocktail of the summer, the concoction got mixed reviews from our team of experts.
In Dallas, Chef Panepinto's immediate response was: "What's that?" Upon further investigation, he reported back that he's never had a Shirley Temple, dirty or otherwise.
In Chicago, Blazek was more accommodating. "The Dirty Shirley is a fine gateway into elevating your own cocktail game at home if you typically use only one mixer with a liquor," he said. "Grenadine can be viscous and sweet for most cocktails and doesn't balance right. We suggest, just go light. You can always add more to your preference."
Back recommends using red fruit-based syrups and cordials to enhance the flavor and complexity of this "old school non-alcoholic serve," while Blanchard prefers Luxardocherries for a more sophisticated pour.
And in Nashville, while Jones and her team have definitely seen the Dirty Shirley on the rise, she's still partial to that other trendy cocktail on the comeback, the Espresso Martini. Of the three varieties served at Virgin Hotels Nashville, her favorite is the Que Linda, a spicy tequila variation on the classic.
Que Linda in Nashville
Recipe:
1.5 oz. Patron Reposado
.5 oz. Ancho Chile Liquor
.5 oz. Kahlua
.25 oz. Demerara (or simple) syrup
1 oz. espresso
Instructions: Shake, strain, serve up in a martini glass.