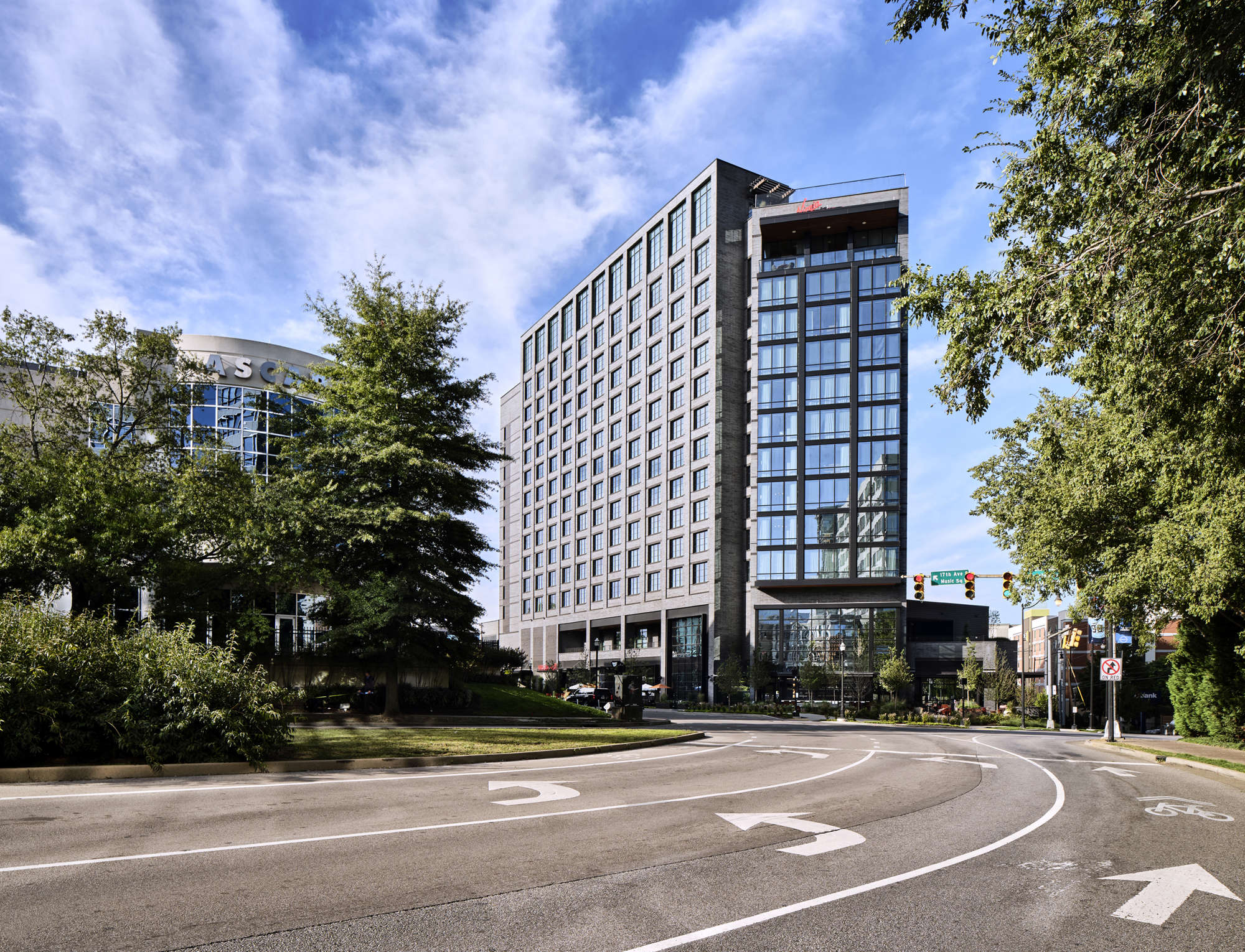 FAQs
Get The Information You Need. And Then Some.
From accessibility to valet services, we've compiled the most common questions about Virgin Hotels Nashville right here.
Still need help? Reach out to our team – they'll be only too happy to get you the answers you need.
What's your minimum check-in age?
We know age is just a number, but you do need to be over 21 to make a reservation and check in at Virgin Hotels Nashville.
What is your amenity fee policy?
All our reservations are subject to a $27 daily amenity fee. This covers free high-speed Wi-Fi throughout the hotel, 24/7 access to the gym, complimentary in-room bottled water, coffee and tea, access to curated, local live music experiences across the property, and complimentary drip coffee from our Funny Library Coffee Shop.
Are you a pet-friendly hotel?
We are! Your best friend will be given the warmest welcome, sure to get their tail wagging! Expect pet friendly chambers and comfy pet-menities as cozy as your own. We think traveling with pets should be just as fun for them as it is for you. No breed or size restrictions. No fees. 
Please be aware that you'll be responsible for any damage your pet causes to hotel property and our team will be unable to refresh your chamber if your unattended pet is present.
Do you have a pool?
Yes! The Pool Club is our stunning rooftop oasis. Head for our 14th floor, where you'll find cabanas, loungers, and daybeds – just perfect for loafing around in the sunshine. Weekend access to the pool is restricted to hotel guests, but day beds and cabana rentals are available to non-hotel guests via The Pool Club.
Where can I eat lunch?
Join us in the Commons Club to sample our eclectic seasonal menu. Or why not refuel at Funny Library or by the pool on the 14th floor?
Is the hotel ADA accessible?
Yes, we're ADA accessible and proud! We have rooms with roll-in accessible showers, tubs with grab bars, wider entrances for the rooms, as well as lowered countertops and amenities.
Our teammates have also been certified and trained through Autism Double Checked. Families traveling with neurodiverse guests can request a visitors guide ahead of their stay that will highlight any potential sensory issue such as crowds, time or duration, temperature, noise, body awareness and more.
Do you offer room service?
We absolutely do! In-room dining is available for breakfast and lunch from 7am-2pm and dinner from 4pm to 10pm. You can place your in-room dining order with our YES! Team, on the Virgin Hotels App, or even on your TV! We offer contactless delivery, and your order can be delivered to your door or to the sliding door in your chamber.
How do I book a cabana?
From Monday to Thursday, you can reserve a cabana through The Pool Club website. At the weekend, you can reserve a cabana by emailing vhn.nightlife@virginhotels.com. Cabanas typically book up 2-3 weeks in advance, so be sure to make your plans in advance!
Do you have valet parking? Where can I park, and how much does it cost?
Yes! We have valet parking available 24/7 through the front driveway. Overnight parking is $52/night plus tax. If you have an oversized vehicle, valet parking will be $62/night plus tax. Stopping by for dinner? No problem! Feel free to valet for $8 with any outlet validation.
What's the best way to get from Nashville Airport to the hotel?
It's approximately an 18-minute ride from BNA. Here are a few other ways to reach Virgin Hotels Nashville.
By ride: It's a quick trip into the heart of Music City. Just tell your Uber, Lyft or taxi driver you're heading downtown to Virgin Hotels Nashville located at 1 Music Square W (right at the start of Music Row).
By personal car:
Take Terminal Drive to I-40 W
Follow I-40 W to Demonbreun St. Take exit 209B.
Turn left onto Demonbreun St.
At the traffic circle, take the second exit onto Music Square West.
Virgin Hotels Nashville will be on the left.
Where can I eat dinner?
For dinner, take your pick between Commons Club located on the ground level or make your way to the 14th floor to The Pool Club for a spectacular skyline and a tempting selection of bites & craft cocktails.
Are children welcome at the hotel? What facilities and services are available for them?
Families are always very welcome - feel free to bring the whole clan! If you're bringing the kids, please note that we often hold adult-only events at the property, so we'd encourage you to give us a call before you arrive to confirm exactly what amenities will be available during your stay. 
What attractions are close to Virgin Hotels Nashville?
We're right on Music Row in the heart of Midtown, a short walk or ride away from Broadway and The Gulch. It's a central spot, surrounded by restaurants, live music venues, and shops. Vanderbilt University and Vanderbilt University Medical Center are a 12-minute walk away from the hotel too. Look at our Things to Do page to see what else is nearby and for some recommendations for your night in Music City!
How far is Virgin Hotels Nashville from Vanderbilt University Medical Center?
We're less than a mile away, or just a 4-minute drive from the Vanderbilt University Medical Center.
How far is the hotel from downtown Nashville?
We're less than a mile away from all the hustle and bustle that Music City has to offer. Looking to catching a Preds game or visit one of the honky-tonk bars on Broadway? It's all just 20-minute walk or a 4-minute drive away.
What time is check-out? Do you offer late check-out?
We offer flexible check-in and check-out times. Just call our Junction team and we can help cater to your trip. 
Do you have Wi-Fi?
We do – and it's free for all! We don't charge extra for bandwidth, just all of the Wi-Fi, all of the time. 
Can I have an event at the hotel?
Absolutely! We're always ready to party. Whether you're planning a private celebration, nuptials, wedding shower – even your dog's first birthday – we can turn your bright idea into a great event. Just visit our Events page to learn more. 
Where can I eat breakfast?
Dip into Commons Club or the Funny Library Coffee Shop to browse our variety of light breakfast options or stay right where you are and order to your room with in-room dining. 
Do you allow smoking?
In accordance with our LEED Silver Certification, we're a 100% smoke-free property. If you smoke, or if there's any evidence of smoking in any of our chambers, you'll be subject to a minimum cleaning fee of $250.
Can I receive mail and packages at the hotel?
We can receive your mail at the hotel, as long as the package is marked for the attention of the name listed on the reservation.
Are there any events happening during my stay?
We love a good party, and there's always something going on! Check out our Marquee Events page to stay up to date on what events we have going on.
Do you have a gym?
Yes! Our expansive gym and fitness center on the second floor features internet-equipped Technogym® cardio machines for an incredible workout. Enjoy 24-hour access with your guestroom keycard.
Do you have a coffee shop?
What are the Pool Club's operating hours?
The Pool Club is open Sunday through Thursday from 11am-11pm, and Friday through Saturday from 11am to 1am.
What's your cancellation policy?
Cancellation policies vary by the type of rate/reservation that you book with us. Please refer to your individual confirmation to reference your cancellation policy – it will always be listed there.
What amenities do you offer in your chambers and suites?
You'll find a Dressing Room in every chamber and suite, with a full vanity tucked between two white oak closet systems, sit-down makeup desk with mounted illuminated mirror, and an extra-large shower with a bench. 
A sliding wooden door (complete with peephole) separates this from The Lounge, which features Virgin's patented ergonomically designed bed with a channel-tufted headboard, a red SMEG® mini-fridge stocked with street-priced snacks, high-definition TV and a yoga mat. 
All our chambers feature custom lighting on sensors that automatically illuminate when you move around the room and plenty of outlets for powering up your smartphones and other devices.
How far is Virgin Hotels Nashville from the Music City Center?
Virgin Hotels Nashville is less than a mile away and just a 3-minute drive from the Music City Center.
How far is Virgin Hotels Nashville from Music Row?
You'll find us right on Music Row in the heart of Midtown.