Take A Tour Of These Cities Through Their Signature Dishes
By Shayne Benowitz
With Virgin Hotels New Orleans set to open this summer, The Big Easy will soon have another must-visit restaurant with Commons Club New Orleans. As the hotel's social epicenter, it's a dynamic restaurant, bar and lounge helmed by award-winning chef Alex Harrell, which will feature a communal chef's table, an open kitchen, relaxed indoor porch seating and private dining room where you can indulge in creative contemporary interpretations on Southern seasonal cuisine with Mediterranean influences.
We decided to check in with Chef Harrell and other Virgin Hotels chefs to find out what dish on their menus capture the spirits of their respective cities.
Grilled Oysters at Commons Club New Orleans
A native of southeastern Alabama, Chef Harrell grew up spending weekends at his grandparents' Gulf Coast farm where he first developed an appreciation for local produce and home cooking. At Commons Club New Orleans, he's infused his Gulf Coast heritage into a popular New Orleans dish with his grilled oysters with Nduja butter and breadcrumbs. "It's a nod to a classic chargrilled oyster that is super popular all over the city," says Harrell, who has worked in New Orleans kitchens since 1998.
Using farm-raised oysters from Murder Point Oyster Company, he's created a contemporary play on the traditional dish. "I love showcasing great seafood from the Gulf of Mexico and these oysters are an example of just that," Harrell says. "The Nduja in the preparation adds a great spiciness and depth of flavor."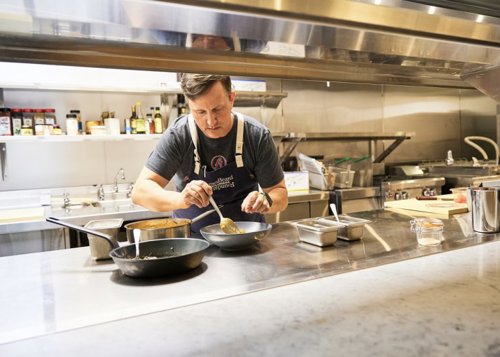 Nashville Hot Chicken Biscuit at The Pool Club & Commons Club Nashville
Nashville hot chicken has long entered the national consciousness and found its way onto menus across the country, but it all started in the 1970s at Prince's Hot Chicken Shack in Nashville. Prince's original fiery, finger-licking hot chicken comes in eight heat levels from plain to XXX hot. Virgin Hotels Nashville's Chef Ryan Lachaine tracks the modern-day craze to the first annual Hot Chicken Festival held in 2007. "That cemented it as the signature dish of the city," he says.
It only made sense that he try his hand at the classic dish, which found its way onto the brunch menu at both The Pool Club and Commons Club Nashville. "We wanted something that was quick to turn around and truly channeled some Music City flavor," says Chef Lachaine. His version is served on a freshly made drop biscuit and topped with honey drizzle. "It's the ultimate comfort food. Who doesn't love the contrast of the spicy crispiness from the chicken and buttery goodness from the biscuit?"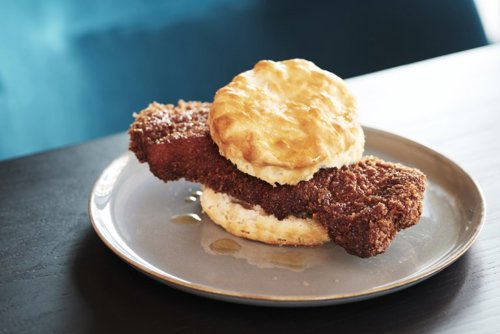 Rolls Royce Sandwich at Commons Club Dallas
Serving up French-meets-Texas-style dishes with an emphasis on local ingredients, is Chicago-born Chef Jonah Friedmann. Chef has dreamed up a new addition to the lunch menu at Commons Club at Virgin Hotels Dallas with the Rolls Royce Sandwich. Made with shaved Akaushi American Wagyu NY Strip, it's a Texas twist on the classic French Dip. Topped with fresh horseradish, crispy fried onions, and a green garlic aioli, the Rolls Royce is served on a toasted hoagie bun with a side of rich bordelaise sauce and a side of truffle fries.
"Everything is bigger in Texas," says Chef Friedmann. "I love the emphasis on the beef and the bordelaise is next-level."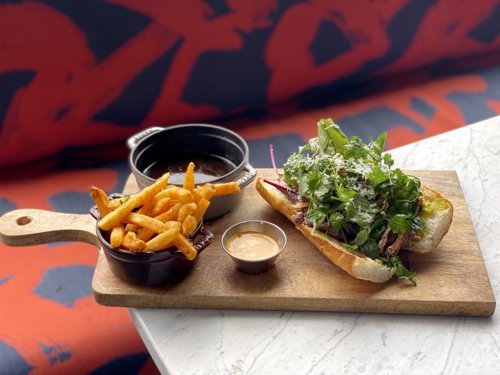 Grilled Octopus at Cerise in Chicago
While Chicago native Chef Tony Roldan counts the Italian Beef with extra giardiniera and cheese fries at Portillo's as his favorite classic Chicago dish, his emphasis at Virgin Hotels Chicago's Cerise is on globally-inspired cuisine—and right now, he's getting a kick out of experimenting with fermentation. He's also busy relaunching Miss Ricky's as an American-French Brasserie.
"I actually have a special giardiniera recipe that I make from peppers locally sourced from our farmer's market," he says. "It's a blend of Serrano and Fresno chilis, baby carrots and sweet red peppers."
But back to fermentation. The new dish at Cerise that Chef Roldan is most excited about is his chargrilled octopus glazed with a sauce made of Gochujang, a popular fermented Korean red chili paste, and then topped with Gochujang aioli. "Octopus is a really fun protein to work with," he says. "We love its versatility." In his preparation, the octopus is sous vide, chargrilled and then glazed before it's plated with a crisp salad of fine herbs with shaved shallots, fennel, chervil, tarragon, parsley and dill and dressed in arbequina oil and fresh lemon juice.
Chef's kiss!