Delicious Summer Eats
By Shayne Benowitz
As summer heats up, Virgin Hotels chefs are switching up their menus to highlight seasonal ingredients. They're also sourcing produce from local purveyors and their own onsite gardens, bringing a fresh new take to farm-to-table dining.
Nashville
In Nashville, Chef Jeremy Mor has developed a Culinary Garden where he harvests over 20 vegetables and herbs, showcasing the rich bounty of Middle Tennessee, including spring peas, beets, sweet corn, zucchini, thyme, rosemary, African blue basil, chives, sage and lavender. "It's always nice to clip some fresh herbs from the garden to use as garnishes on our dishes and drinks," he says.
From freshly plucked Thai basil and ripe tomatoes in his ricotta gnocchi pomodoro, to corn husked fresh from the stock for the corn ragu on his diver scallops, and crisply lettuce on burgers, salads and club sandwiches, he's found plenty of creative ways to incorporate the Culinary Garden into his cuisine at Commons Club.
He also works with local purveyors when it comes to sourcing specialty ingredients, like Tennessee Artisan Honey for his baked brie appetizer and Benton's aged country ham from Madisonville for his artisanal ham board.
Edinburgh
The newest Virgin Hotels recently opened across the pond in Edinburgh where Chef Steve Wilson has debuted an exciting summer menu at the Commons Club highlighting the flavors of Scotland. "My personal favorite is the venison tartare," he says, "We work with the Highland Game Company to source roe deer, which is like butter and works beautifully." Another dish quickly growing in popularity amongst his guests is the Gigha halibut with saffron mussel broth. "It's so fresh and simple, but has fantastic depth of flavor."
Chef Wilson's relationships with small suppliers throughout Scotland include John Gilmore The Butcher, The Fish Brothers and Isle of Mull Seaweed Company, as well as Forth Farm for eggs, Sheffield Farm in Argyle for granola and Belhaven Smokehouse in Gullane where he sources smoked salmon and trout.
"We're so fortunate to have some of the world's best produce on our doorstep in Scotland," he says. "I'm always on the lookout great products that I can incorporate into my menus."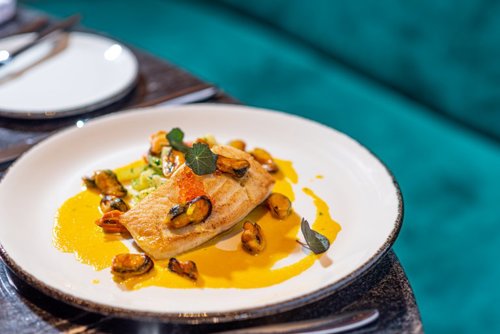 Chicago
In Chicago, Executive Sous Chef Danielle Goodale presides over Cerise and Miss Ricky's. With diner classics and local favorites on the menu, one of her favorite purveyors is an egg farm less than two hours from the hotel. "The farm raises their hens with comfort, happiness and a strong home, giving them a nickname in the community as the 'yuppies,'" says Goodale.
These farm fresh eggs are the stars of Miss Ricky's brunch menu with dishes ranging from the decadent Denver omelet, featuring ham, caramelized peppers and onions, aged cheddar and chives, to fried eggs in the chilaquiles and fried chicken and waffles, poached eggs on avocado toast, eggs Benedict and shrimp and grits, and steak and eggs any style.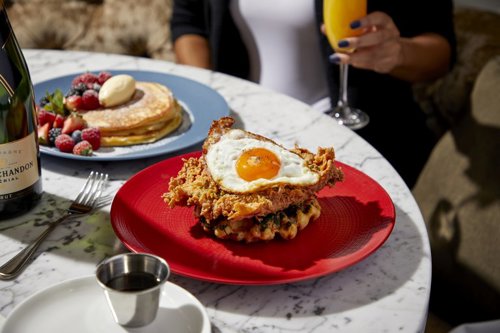 Dallas
At Commons Club inside of the Dallas hotel, Chef Jonah Friedmann has cultivated an onsite Chef's Garden where he grows an array of micro greens, including red sorrel, purple amaranth and micro basil, as well as vegetables, like carrots, Swiss chard and fennel. He also sources produce from local farms, like Molino Oloyo and Epicurean Greens.
In true "go big or go home" Texas fashion, his summer menu at the Commons Club has debuted the Butcher's Block, highlighting a selection of four cuts of meat from local purveyors 1855 Farms and Arrowhead Farms, including center-cut filet, strip, rib eye and rack of lamb. Each steak is prepared with green garlic puree and roasted local mushrooms from Texas Fungus.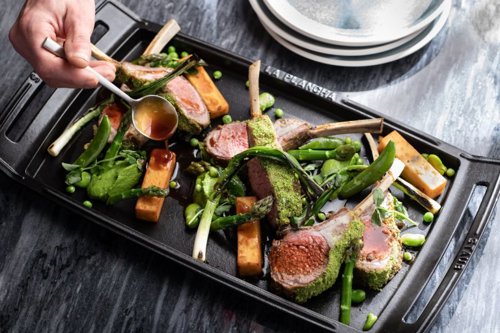 New Orleans
Down at Commons Club at Virgin Hotels New Orleans, Chef Alex Harrell is dishing up some summertime Southern comfort with classic ingredients, from okra to grits. "It's all about developing relationships with local farmers and producers that you trust," he says. "You get to know and share a common thought process when it comes to quality."
Some of the local and regional purveyors Chef Harrell works with include Pelican Produce on the West Bank and Bayou Cora Farms out of Foley, Alabama, which supplies the cornmeal for his shrimp and grits dish on the Commons Club brunch menu.
One of Chef Harrell's summertime favorites is his cast iron roasted okra, which he sources locally from river parishes native Timmy Perilleaux of Perilloux Farm in Montz, Louisiana. "Okra is very much tied into southeast Louisiana food culture," Chef Harrell says. "It has both Creole and Cajun ties coming up through West African influences and the Caribbean."